Support Onboarding Process
There was never an onboarding process for the iThemes support team. When I became Support Supervisor for the team, this was one of the first processes I wanted to create.
I started with partnering the new team member with someone who does not work in the same area they would be working. This allows them to meet other teammates they may not get to work with on a regular basis. This first person teaches them the basic support rules and procedures.
After spending time with someone not in their support area, they'd then partner with someone on their specific team to learn the workings of that product and support for that group.
iThemes Support Process, Documentation and Escalation Process
Our company was in a period of transition after having been acquired. During that time, many of us were taking on additional projects as we made the move into this new company, including our General Manager.
I was selected by my manager to help him head up a project for the support team which would revamp our support process, set up a system to make sure the documentation is being kept up to date and create an escalation process for support tickets.
This required me to not only be able to communicate with my peers but also to lead my co-workers despite not being in a management or leadership position.
The project demanded that I be able to organize, process data and create solutions.

As part of this project, I also created the Standard Operating Process (SOP) for each of the different areas.
Support in the WordPress.org Forums
The vast majority of our team has 5+ years of experience working with WordPress. While our first priority is always our customers, I've recently had our team start working the WordPress.org forums as time permits to help out our greater WordPress community. It's not linked back to our team, we're not looking for credit, just a way to give back.
Weekly Support Newsletter
One of the most difficult thing about having remote team members is making everyone feel as if they are part of the team. It's so easy to feel adrift and on your own when working remotely. To help combat this, I started posting a weekly newsletter to our support-only Slack channel. The newsletter contains links to interesting and helpful articles, some support stats and a silly meme. Most importantly, I include a "Get to Know You" question that the team responds to in our Slack channel. It's not mandatory, however, it has lead to many engaging conversations and helped us to feel more connected to one another.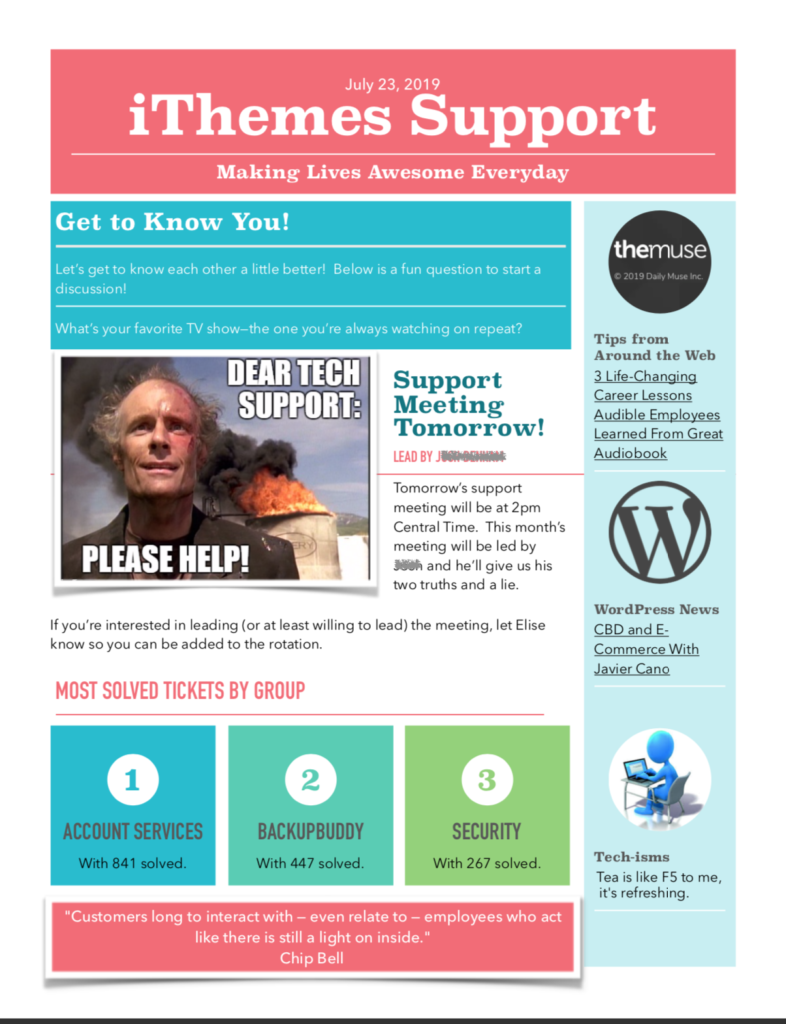 Monthly Support Meetings
At one point, the support team had a monthly support meeting but was conducted in Slack and conveyed little to no information. So I revamped the monthly support meeting to be a video call instead of just a chat and created an agenda for us to follow each meeting.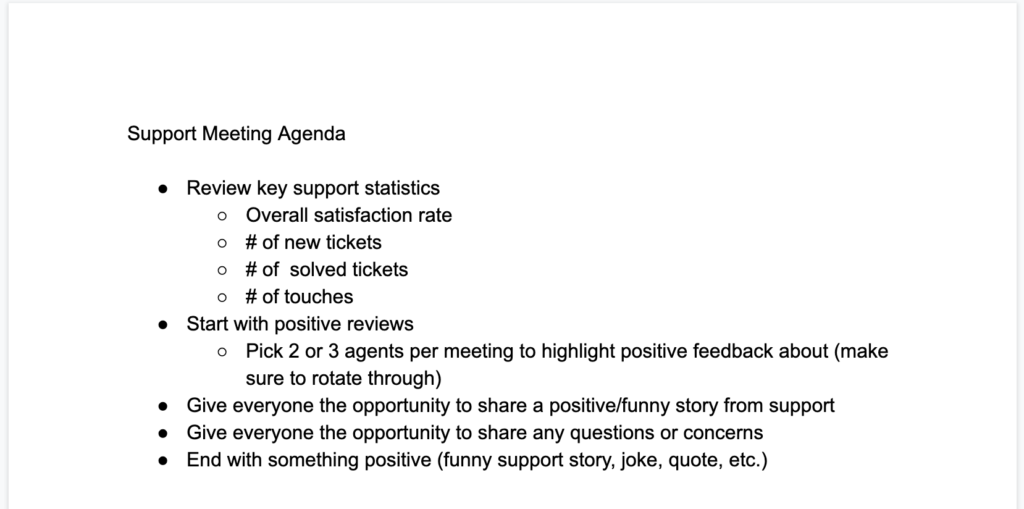 Not only does this help everyone get more involved in the meeting but each month, the meeting is lead by a different support member allowing them to have some control.
Monthly Support Newsletter Sent to Entire Team
After the monthly support meeting, I create a newsletter to be sent to the entire iThemes team.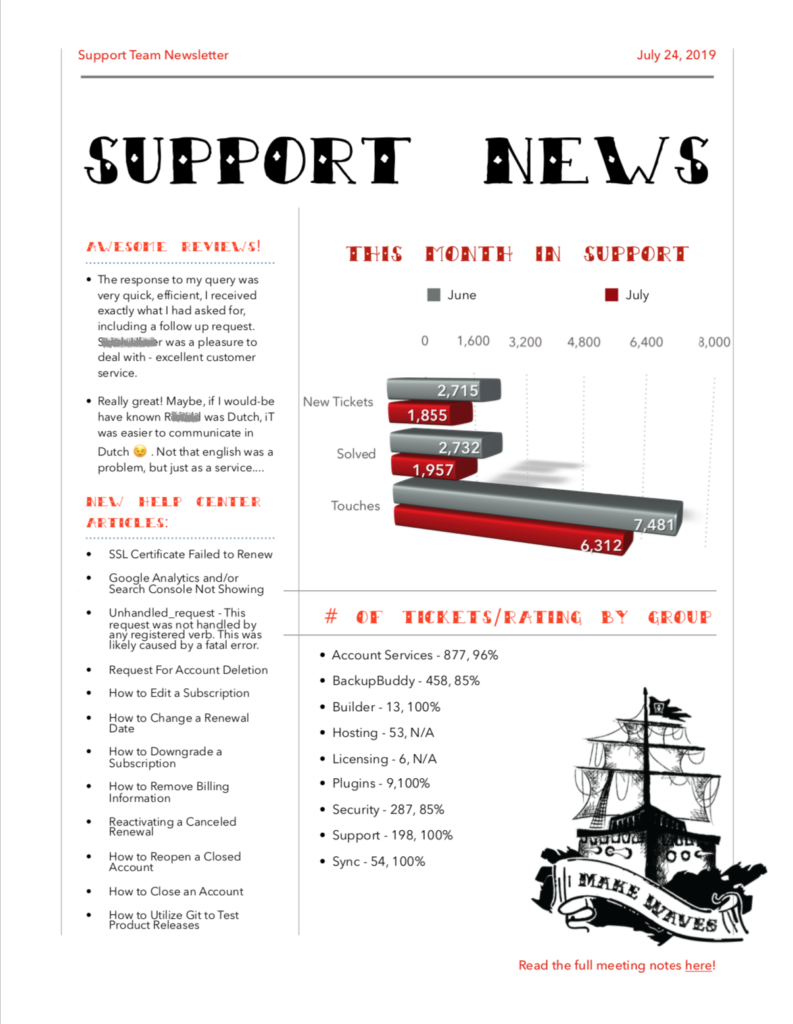 In this newsletter, I share support stats, work we've done (such as new documentation articles or videos we've created), positive reviews we've received from customers and anything else I think helps to show off how awesome our support team really is. I also include a document with all of the positive reviews from the previous monthly with the newsletter.
Member Panel Audit
I was asked by my General Manager to review the current Member Panel used by our customers. This is where customers view their subscription information, download any files and can contact support.
I went through the Member Panel and made note of anything I thought needed to be updated or added. I also had our primary sales moderator review the Member Panel as she addresses most of the questions related to the Member Panel and is very familiar with the customers' needs and wants.
After reviewing the Member Panel and discussing it with our sales moderator, I created a Trello board for it, organizing the items by priority and working with frontend and backend developers, management and other support members to ensure all issues were addressed.
iThemes YouTube Channel
Due to some unfortunate circumstances, iThemes lost the videos on their YouTube channel and needed to start over. I was asked to lead the team to help relaunch and revamp the channel.
As part of the revamp, I created and launched a new segment for the iThemes channel called WordPress Development Corner where we interview the different developers on our team to not only learn more about our products but so that our customers can learn more about why we make the decisions we do.
I also worked to create a recording room that both looked and sounded more professional to help bring in viewers but also shares our personality with our customers.
Project Management for GM
My GM came to me to help him organize and manage his products, to help keep his projects on track. I took forms created by the company we were then apart of and adapt them to work for our smaller portion of the business.