The iThemes Exchange team, which I'm a part of, met up in Chicago this week for some discussion on the future of Exchange but also for some time just to spend together as a team.
Glenn and Lew are the developers of Exchange and are also "satellite" employees, so we don't often get a chance to be together as a team.
So along with Matt & Cory, we spent time exploring Chicago.
We went to Wrigley Field, where, despite Cory's best efforts, we weren't able to go inside.  It was cool just to be at the stadium, though.
We went to the top of Willis Tower (formerly Sear's Tower).  They have what are basically plexiglass boxes on the side of the building where you can step out to see the view.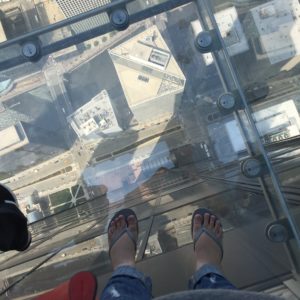 I'm not one who is normally scared of heights, but I have to admit, it was pretty trippy!
Cory, on the other hand, is scared of heights!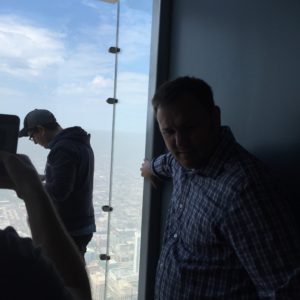 He tried to avoid actually stepping out into the box.
He did eventually manage to step out there, though it took some time.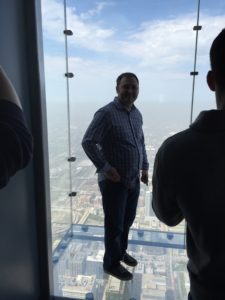 We continued to terrorize Cory by going to Navy Pier and going on the Ferris Wheel.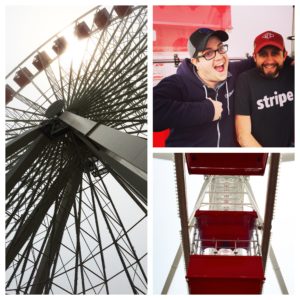 I was not involved with the shaking of the carriage!!
Of course, we had to try Chicago style pizza, which I enjoyed a lot more than I thought I would.  Not being a fan of cheese, I'm normally pretty picky about my pizza.  But the sauce really made it and I would've eaten more if I could've!  I was stuffed!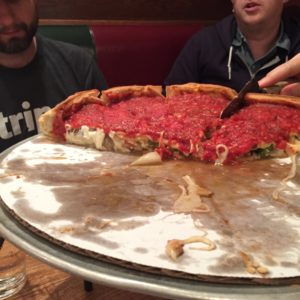 And, obviously, we had to visit The Bean.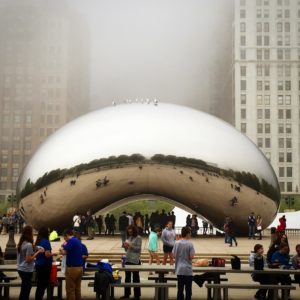 Chicago is definitely a city I need to spend more time in!